Horticultural Assistant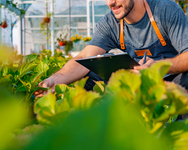 The ideal candidate should wish to develop experience with a view to a career in Horticulture. There is an opportunity to combine with an Apprentaship Learning package or supplement with short skill based courses on site and offsite, at locations such as RHS Wisley, Kew Gardens or part time courses.
How much can I earn? From £9.50 per hour + dependent on age and experience & qualifications.
What are the hours of work? Full and part time roles area available 8.00-5.00pm Monday to Saturday.
What will I be doing on day to day basis? Your day-to-day tasks may vary depending on the time of year, but will always include tasks such as taking care of plants - watering, weeding, pruning, spraying, preparing, sorting and loading plants for delivery.
Essential Requirements for The Role
Excellent presentation skills and attention to detail with data capture

Physically fit and enjoy outdoor work

Excellent Health and Safety understanding
Qualifications which can be gained in this role
A qualification aligned to Horticulture

Spraying Certificate (PA1 / PA6)

Rough terrain forklift License
Important
We have two locations that are being recruited for;
Beaconsfield, HP9
Uxbridge, UB9
Before applying please consider if you can reach either of the locations within 60 minutes of travel time by car or public transport
All applicants must have valid references and proof of Eligibility to work in the UK. Once we have received your completed application, this will be reviewed against set criteria for the role. Unsuccessful candidates should receive an email to inform them that they have not been shortlisted on this occasion, however, if you do not hear back after 2 weeks please assume on this occasion that unfortunately, you have been unsuccessful.