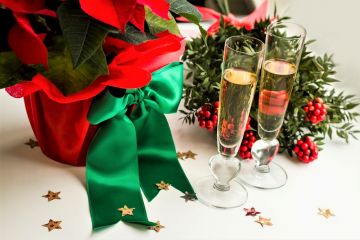 It's fun to decorate your house for New Year's Eve and to see 2020 out with a party, even if it is just a few of you, will be great fun and bring hope and joy for the new year! After an unexpected year, why not enjoy a night of partying and decorate your house for that party vibe. Think fun paper crafts and natural decorations for no waste and enjoy seeing out 2020 and welcoming in 2021.
Get crafty to decorate your house for New Year's Eve
Take some time to focus on some relaxing crafts at home after the festivities and before the New Year celebrations to make your own craft decorations. Make paper bunting with glitter and ribbons to add some sparkle and try some origami shapes for fun out of colourful paper. Try your hand at paper flower garlands and make paper shapes for the walls.
Decorate your house for New Year's Eve with nature
Take a walks outside to get some fresh winter air and walk off the festive treats while you collect some natural materials to make party decorations. Fallen twigs and longer stems or branches can be sprayed sparkly colours or used as they are to hang baubles and treats from for a lovely natural indoor display. Display them in vases and twirl some fairy lights on them as well.
Bring plants to the party and decorate your house for New Year's Eve
Plants can add so much to a room so why not include them in your party. Group together a lot of houseplants from tall Palms to smaller Cacti and drape lights on and around them plus some tinsel for a show-stopping plant corner of fun.
Decorate your house for New Year's Eve outside
The party might be inside but welcome your guests or just to brighten up the neighbourhood with an outside light show. Make your house the party house with flashing lights, and fun lawn figures to get the party started.
Make a dance floor to decorate your house for New Years Eve
Every party needs a dance floor, even if it is just two of you doing the dancing! Grab a glitter ball and some party lights. Turn the room lights off, music up and dance the night away. Don't forget to keep your eye on the time so you don't miss the midnight countdown to welcome in the new year. Have fun!
See what you can find in store to get your home party-ready!