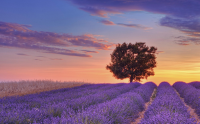 LOVE TO LOVE YOUR LAVENDER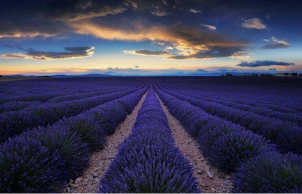 A garden without any Lavender is a garden one plant short of a full border. A more helpful plant is hard to find. It is evergreen, isn't too big, lasts a long time produces pretty, scented flowers and gets on well with its neighbours.

But she is not just a pretty face. She is a full on industry, producing soap, oil, bubble baths and body lotions along with eau de toilette, shower gels and face creams. Don't forget scented candles and incense sticks, herbal teas and honey too, and that's before you have bought a drying up cloth or a lucky charm.

I lived and worked in Provence for nearly twenty years during which time I made a lot of people happy. I did it by creating gardens for them.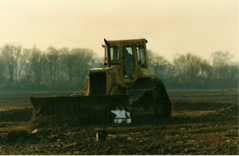 Creating a garden is not always a quick process and, if clients get fed up by how long the job seems to be taking and how much more it seems to be costing, it is often the 'development,' some 'changes of mind' and 'whilst your guys are here' items - all, as such 'extras' that they have ordered and need to pay for.
Then the day arrives when the project comes to a conclusion. Hands are shaken and new friendships forged. Not surprisingly I soon learnt that the best time to 'sign-off' any gardening venture was when lavender was performing at its Provençal best. Everybody calms down and good relations are re-established.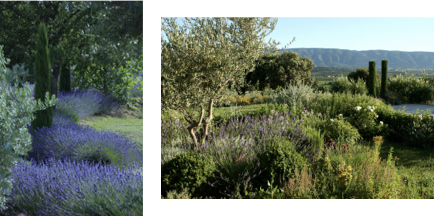 People like to escape from the colder climes of northern Europe or winter in the southern hemisphere and come to live the Provençal dream for a few months. To absorb a landscape cherished and depicted by artists; Paul Cezanne (Mont Sainte-Victoire, Peter Mayle (A Year in Provence) movie director Claud Berri (Jean de Florette) or perhaps the Canadian sculptor, James Edward Ritchie (Galinea). A landscape of unequivocal beauty that is imbued with a lasting sense of serenity and inspiration.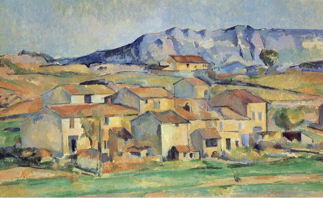 But nothing, except for Olives, promotes the cliché of Provence more than lavender.


Everyone wants it big time. Driveways lined with it, houses surrounded by fields of it, pathways overflowing with it, tubs, pots and pans brimming with it. It is ubiquitous.
It's easy to understand the draw of this sweetly perfumed Mademoiselle. She is seductive in a way all unto herself. Roses may bankroll your feelings for romance, honeysuckle may make you light headed, but it is lavender that decreases blood pressure, steadies the heart rate, cools the skin temperature and generally make you think life is worth living!

Oh the rivers of lavender…
One day a client told me that she loved lavender and wanted to incorporate it in the planting plan but with a difference. I suggested a lavender 'river' that would flow through her garden. She liked the idea and we planted a two hundred metre long x two metre wide stream of lavender that ran down a bank, zigzaged through a quince orchard and out into the vineyard below. If the local lavender farmers had thought I was bonkers before they definitely knew I was afterwards.

Walking with Lavender : I loved ambling with my Collie through the gentle slopes of lavender fields in summer. Sometimes we would happen upon an old tree and have a picnic in the shade surrounded by kilometres of a flowering plant that is actually related to the mint family.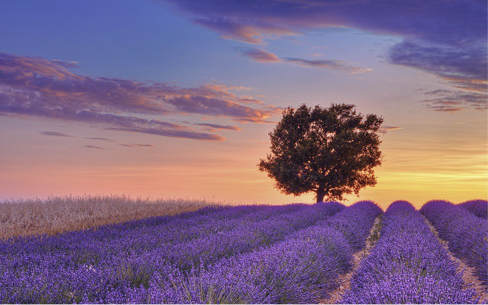 Chippy, for that was he, having shared my baguette would sit between the rows and contentedly sniff the air. This monkey had gone to heaven!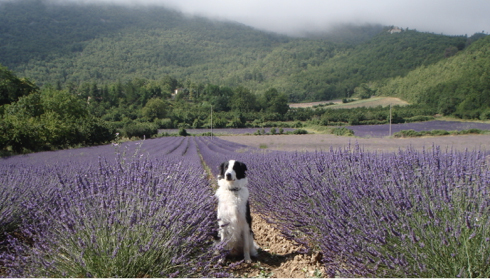 Then comes Harvest time…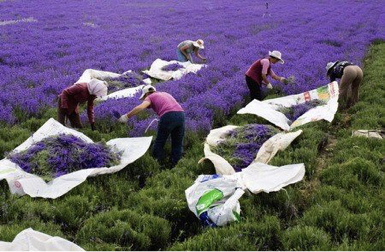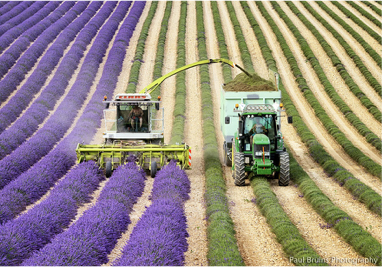 To be in your car and stuck behind a tractor towing a huge trailer of freshly harvested lavender can be quite overwhelming. The density of the smell makes you feel nauseous. But these are not things to worry about here in Britain. The lavender we use in our gardens is different from the variety farmers use as a crop.
Types of lavender
Lavandin (Lavandula x intermedia) . Commercial
This is another variety of lavender which is less well-known but produces a high-quality essential oil. Lavandin is often larger than lavender and has longer, more pointed flower spikes. It tends to flower later than its celebrated cousin and produces around half as much again more oil and contains between 7-12% camphor so good for colds.
French Lavender – Lavandula stoechas Domestic (i)
An evergreen shrub it usually grows to 30–100 cm (12–39 in) tall and occasionally up to 2 m (7 ft) high in the subspecies luisieri. The flowers which appear in late spring and early summer, are pink to purple & white, produced on spikes 2 cm long at the top of slender, leafless stems. Papillon is a favourite variety.
English Lavender – Lavandula angustifolia Domestic (ii)
This is a strongly aromatic shrub growing as high as 1 to 2 metres (3.3 to 6.6 ft) tall.
The flowers are pinkish-purple produced on spikes 2–8 cm long at the top of slender, leafless stems (there are white & pink varieties too).
All lavender benefits from being cut back after flowering. Cut and dry the flowers in muslim. The most usually planted varieties are Hidcote, Grosso, Mumstead and Imperial Gem.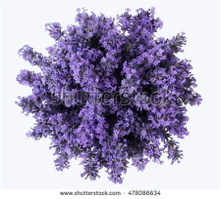 NEXT TENDERBLOG –
Wish you could water your garden when you're away? Here's how…

©Alex Dingwall-Main
www.upyourgardenpath.com