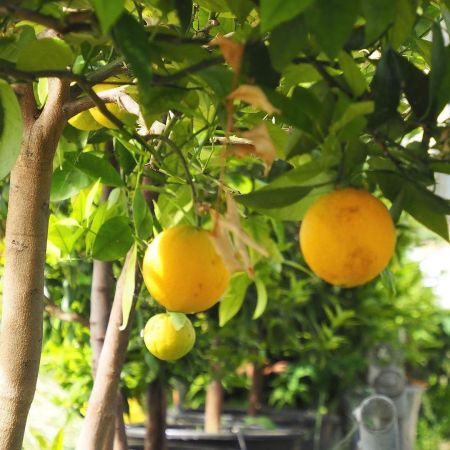 Do you feel most at peace in your own green oasis? Is it your greatest dream to have your own urban jungle? Even though the UK is not known for its tropical climate, there is no reason why your garden can't have that inspiring exotic feel. Turn your garden into a spectacular piece of art with our exotic trees and ornamental shrubs! Here at Tendercare, you'll find the prettiest mature agaves, palms and cactuses to take your garden design to the greenest level. Plan your visit to our nursery or contact us if you have any questions about our design and installation services.


Hardy exotic plants
Have you also seen the most beautiful exotic plants whilst on holiday? Would you like to add them to your yard, but are you concerned about how hardy they are? Of course, you are! We definitely don't have the most tropical climate here in the UK. Don't worry; many exotics are reasonable to perfectly hardy in our climate! Even if they aren't, you can always help your beloved exotics to survive winter, for example, by wrapping it in jute or using straw mats. Some enthusiasts even go so far as to build a shelter above the exotic so that it remains dry in the coldest of months. If this all seems a bit too much for you, you can always go for those tropical plants and exotics that can withstand our winters very well, without any protection! For example,
Trachycarpus fortunei (chusan palm)
Dryopteris filix-mas Barnesii (male fern)
Agave Americana (century plant)
Echinocactus grusonii (cactus)
Palms, agaves, cactuses, bamboo and ferns
Palm trees that reach high into the sky or a real bamboo forest in your garden? Why not add some cactuses, ferns or agaves in the mix for that spectacular jungle feeling? The possibilities that you didn't know existed turn out to be extensive! It's about choosing the right varieties. In other words, plants and shrubs that look exotic but can handle our winters. Bamboo, for example, is wrongly associated with a tropical climate but, in reality, comes from the coldest regions of the world. The exotic-looking palm Trachycarpus fortunei also originates from the Himalayas and is definitely familiar with snow and cold. With real exotics, you have to work a little more carefully and choose the most vigorous cultivars in the family. No plant or tree loves it when the temperature drops below -10°C, so make sure that you do protect your exotic additions when winter gets extreme.


How to take care of your tropical plants
What exotic, tropical or Mediterranean plants have in common is that they prefer well-drained soil and a sheltered but warm spot. Tropical plants need plenty of water, and the roots of exotics must penetrate deep into the ground to be protected against the freezing cold. This is why putting them in containers is usually not such a great idea.
Order your exotics online
As you know, Tendercare is Britain's leading horticultural resource centre. On our 17-acre nursery, you'll find more than 100 000 mature plants, specimen trees, shrubs and herbaceous perennials - including lots of exotcs! Because of our unprecedented product range, chances are you'll fall in love with more than just one plant. Lucky for you, we also offer design and garden installation services to help you make the most of your outdoor space. Why only add one plant when we can help you turn your whole garden into an oasis of green. We are there for you from the start and can't wait to be part of your project. Plan your visit to our nursery to learn more about the plants we offer, or contact us by phone or e-mail if you have any questions about our services. We hope to hear from you soon!