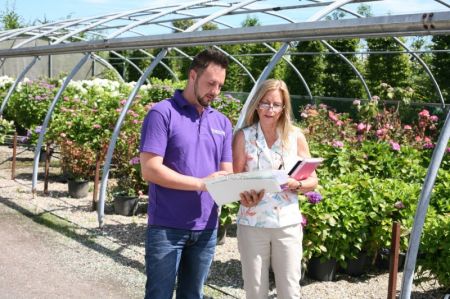 When your green thumb gives a 'thumbs up' when it comes to gardening, you could certainly do with a garden that is a fulfilling oasis of green. It's a shame if you look outside and you're not completely satisfied with what you see… You and your outdoor space deserve better! Do you want to give your garden a green make-over, but you aren't sure where to start? Tendercare can help you out from beginning to end. We offer design & planning services and landscaping services to help you make the most of your outdoor space. Why add just one shrub when we can help you turn your whole garden into an oasis of green? Plan your visit to our nursery to learn more about all that we can contribute to your project.
Wide range of mature plants, shrubs and trees
Yet, there are a few other reasons why you should visit our nursery. Whether you're starting a brand new garden or just looking for that one show-stopping tree to take your outdoor space to the next level, when you're in need of plants, you came to the right place! We sell our mature plants, shrubs and trees in the online shop, but we can imagine you want to stop by our nursery, covering more than 18 acres, to see them in real life. We offer more than 100,000 mature plants, specimen trees and shrubs, so there's a lot to choose from.


Professional advise
From show quality perennials to 60-year-old trees, Tendercare isn't Britain's leading horticultural resource centre for nothing! The range of plants is extensive, and our nursery is enormous, so we can surely give you specific advice and ideas about the trees that match your expectations. Al those shades of green, the lovely smells, and the colourful flowers can surely distract you… Please share what you have in mind, and our experts can show you all the plants that could be perfect additions to your garden plans. Of course, we offer you the time to take a look around. You may wish to progress to one of our Award Winning Site Visit Services as the next stage to enhance your garden, or you may see exactly what you would like, on the day, which you can personally tag with one of our THIS ONE PLEASE! labels.
Plan your visit
Since our site is quite large, our Golf Buggy Assisted Service saves much leg work! Once you have an idea of the layout of the nursery we are happy for you to wander at leisure to take time with your selection - a very nice activity on a fine day! You can now book your personal shopping experience for only £75.00. The nursery is located just outside of London and is very accessible to the major road networks. Our incredible variety of mature trees and plants makes Tendercare the first choice of many leading garden and landscape designers for public and private gardens in the UK. We deliver nationwide.