Garden Furniture
Relaxing on a nice lounge sofa and enjoying your evening meal sitting at a comfortable garden set... That sounds like music to your ears, doesn't it!? Can't wait to relax in the sun on some nice garden furniture? We can well imagine that since garden furniture is the icing on the cake. Order your favourite pieces of furniture online at Tendercare to make your garden project complete. Part of our range can be ordered online in our order shop, but you can always pay a visit to our nursery. There we can help you mix and match the pieces with our other lifestyle products and, of course, our hardy and mature plants, shrubs and trees. Book your personal shopping appointment today.
What we have to offer
| | | | |
| --- | --- | --- | --- |
| ✓ Nationwide delivery & offloading services | ✓ Warrantied planting service | ✓ Professional care and advice | ✓ Plan a visit to our nursery & choose your favourite plants |
Why you need our garden furniture
You lie on the comfortable cushion of your new lounge sofa with a drink in one hand and a book in the other. Not a crazy picture, right? Make this dream a reality and prepare your garden for a sun-filled summer. After all, you and your garden deserve the most trendy, stylish and, of course, comfortable place to relax. Transform the garden into a luxurious holiday resort with a piece of furniture from Tendercare! A dining table with matching chairs is perfect for enjoying all the beautiful plants around you. You can reflect your own taste in the choice of your furniture. Whether you have a large or small garden, there is always a chair, lounger or complete lounge set that is suitable. You can even create a nice lounge area for a balcony or roof terrace!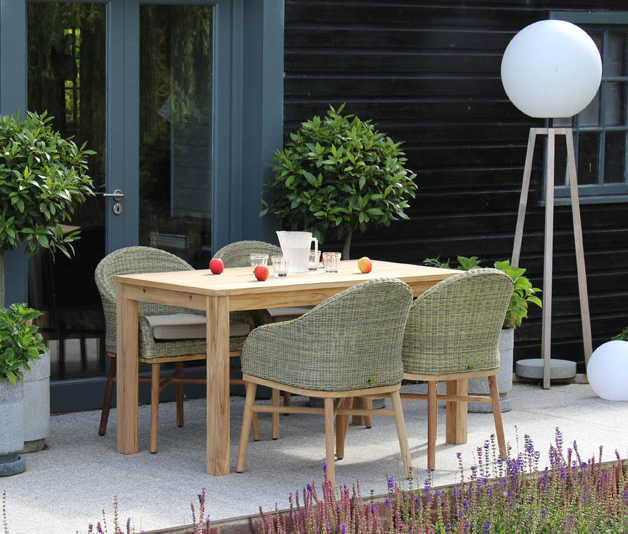 Which material do you choose for your garden furniture?
Buying garden furniture is a lot easier when you are well informed, for example, about the material that suits your needs best. Two things are important here:
the atmosphere you want to create
the amount of time you have to invest in maintenance.
Wicker and other synthetic garden furniture require the least maintenance. Brush them off every now and then and use soapy water once a month. Both are also good weather resistant. In addition, wicker garden furniture looks very natural, and plastic furniture is often in the most trendy colours. Are you looking for a more natural or robust look? Then take a look at our wooden garden furniture. Wood needs more maintenance than synthetics, but we mainly work with teak. This is a type of wood that naturally contains many oils and therefore lasts for years. The furniture does need to be re-oiled from time to time. We also sell aluminium garden furniture. These suit a more modern and industrial style. Aluminium is durable, strong, easy to move and maintenance-friendly. A little soapy water with soap and warm water is enough to make your garden furniture look new again. Scroll up and order your favourite piece of furniture, easy and fast.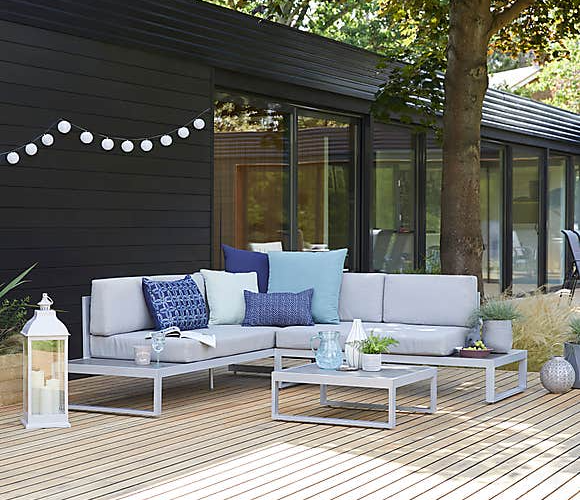 What to look for when purchasing garden furniture
There are a few things to keep in mind when hunting for a new garden set. For example, what kind of 'garden user' are you? Are you someone who prefers to tan all the time in the summer? Then have a look at our sunbeds. Are you looking for a place where you can relax with a drink after work? Then take a look at our lovely lounge sofas. If you like to hold a barbecue party with large groups, our garden tables and dining chairs are ideal. Above all, it is important that your favourite garden furniture actually fits in your garden. A small bistro set doesn't look inviting in a huge garden, and a large lounger might be a bit much for your subtle terrace. To measure is to know, so think carefully about how much space the garden set may take up before you make your move.
Buy your garden furniture from Tendercare
Your garden doesn't feel complete when you don't add the right pieces of furniture. There are many pieces to choose from, so we can understand that you would like some more information on them. You're always welcome to contact us if you have any questions regarding the product range we offer online. Our design and garden planning team would love to help create and develop innovative concepts for your outdoor space. We provide a bookable personal shopping service to our nursery in Denham, offering expert guidance and advice on plants you're looking for, as well as offering tips and inspiration for the rest of your project. We hope to hear from you soon!