Water Features
Turn your garden into a peaceful yet lively space with Tendercare's water features. A water ornament is a stunning addition to your garden, terrace or pond. With such an eyecatcher, you create a soothing and inviting atmosphere… And we use 'inviting' here in the most literal sense! A stream of water in the garden is not only relaxing for you to look at, but garden birds, bees, and other insects love running water. In that sense, you also help create a healthier biodiversity, especially when you also plant our beautiful mature plants, shrubs and trees near the ornament. Visit our nursery to check out our water ornaments in real life or order them in our online shop. We deliver nationwide!
What we have to offer
| | | | |
| --- | --- | --- | --- |
| ✓ Nationwide delivery & offloading services | ✓ Warrantied planting service | ✓ Professional care and advice | ✓ Plan a visit to our nursery & choose your favourite plants |
Types of water features
As you can see, water features come in different shapes, sizes, colours and types. With our wide choice of ornaments, there is always a water ornament that provides a lively and atmospheric look that fits your garden project just right. For example, choose an ornament with lighting. Nice for the evening during the darker days of the year. Or choose a marble ornament, and create a natural and stylish look. We also have some freestanding modern water features with multiple spouts; elegant, contemporary and downright beautiful. Which one is your favourite?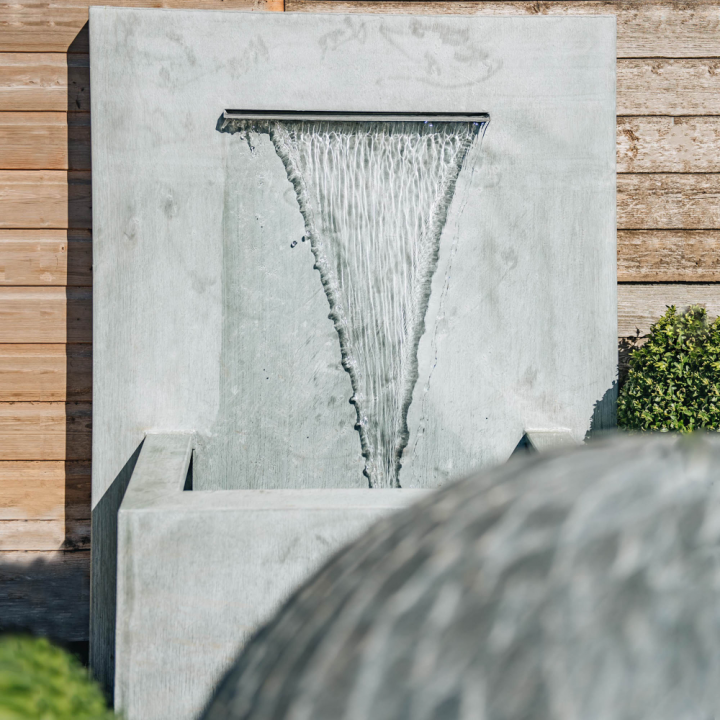 Buy your water features from Tendercare
Add some water to your outdoor space and take your garden project to a more visually interesting level. There are many ornaments to choose from, so we can understand that you would like some more information on them. You're always welcome to contact us if you have any questions regarding the product range we offer online. Our design and garden planning team would love to help create and develop innovative concepts for your outdoor space. We provide a bookable personal shopping service to our nursery in Denham, offering expert guidance and advice on plants you're looking for, as well as offering tips and inspiration for the rest of your project. We hope to hear from you soon!
How does a water feature work?
Most water features operate on the same basic principle: a water basin, a pump, and the ornament itself. The pump must, of course, be supplied with energy. Prevent accidents with extension cords and have an installed power supply close to your water feature. An outdoor socket is a good and safe option that can easily be established. Thanks to the water basin, you don't have to connect your ornament to a water pipe. The water is therefore always reused. However, you will occasionally have to top up some water as part of it gradually evaporates due to the heat. In the summer, you may notice that your water turns green due to algae. You can then completely change the water or always add an algae control agent to your water as a preventive measure.