Mature Artfully Pruned Plants
Most plants and shrubs benefit from regular pruning to maintain plant health, to control size or to accentuate an ornamental feature. Turn your garden into a work of art using topiary. Topiary refers to perennials and shrubs which have been pruned into clearly defined, often geometric shapes such as balls, cones, pyramids and spirals. The ideal plants to create these three-dimensional objects are slow-growing, hardy and resistant to diseases. For centuries topiary has been an important feature of royal palaces and sophisticated gardens, but it has been rediscovered by gardeners in the last 15 years. Now you can add mature artfully pruned evergreens to your garden.
What we have to offer
| | | | |
| --- | --- | --- | --- |
| ✓ Nationwide delivery & offloading services | ✓ Warrantied planting service | ✓ Professional care and advice | ✓ Plan a visit to our nursery & choose your favourite plants |
Add architectural flair to your garden
Topiary is a great way to add strong lines and architectural flair to your formal, but also modern or artistic garden. The various styles of pruning can have all kinds of effects. Geometric shapes tend to give a strong, structural accent to your garden, whilst other shapes can add a humorous and informal touch. Successfully integrating topiary into your landscape is a matter of placing it where it can shine, whether as an independent eyecatcher or to a contrasting background of less structured planting.
Figure pruning
There are various plants that are suitable for figure pruning, including traditional evergreens such as Buxus, Ilex and Taxus, but also less suitable plants such as Fagus and Carpinus. We offer a wide range of mature artfully pruned plants.
Topiary balls

Topiary cones

Topiary pyramids

Topiary spirals

Other shapes, like arches, clouds and columns
If you want the pruned plants to keep their perfect shape, it is important to regularly prune them. Let our clipped topiaries get you in the mood for a garden that will satisfy your gardening needs. Your own garden will leave an impressive impact on your visitors.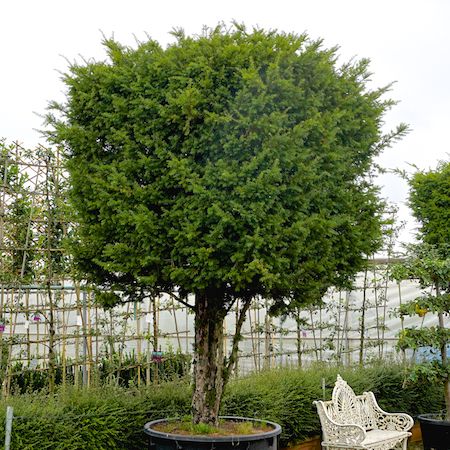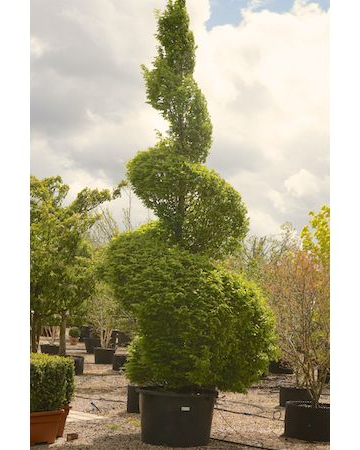 Different kinds of plants
The Box plant (Buxus sempervirens) is the most well-known plant for shaping and pruning. The plant is known for its glossy, dark leaves, dense foliage and for the fact that it tolerates being clipped. The Ilex (Holly) and Taxus (Yew) are similar to the Buxus in that regard. Aesthetically pruned Carpinus (Hornbeam) and Fagus (Beech) are also a perfect addition to your garden. It is important to water large topiary plants in sunny and windy sites (especially during summer weather) during the first two years after planting. Once the plants have become established in their site, they will require far less watering.
Buy Mature Artfully Pruned Plants
The spectacular plants in this category are perfect for outdoor spaces which have access of over one meter wide. We also have some smaller, but no less beautiful artfully pruned plants that can be taken through a standard garden gate of at least 80-90 centimetres. Want to have a look at our topiaries in real life? Visit our plant nursery in Denham. Any questions regarding the plants we offer online? Feel free to contact us.