Garden Plants with Fruit
The juiciest apples, brightest red strawberries or the most delicious grapes all coming from your own garden? It is possible with the plants with fruit range from the Tendercare nursery! No matter how small or large your home garden is, there is always a way to grow some tasteful fruits. Many fruits grow well in containers, and some can even grow against a wall. We have a wide range of (self-fertile) garden fruit trees and shrubs that produce a superb harvest in spring and summer, including apple, pear, citrus and cherry trees.
What we have to offer
| | | | |
| --- | --- | --- | --- |
| ✓ Nationwide delivery & offloading services | ✓ Warrantied planting service | ✓ Professional care and advice | ✓ Plan a visit to our nursery & choose your favourite plants |
Pretty delicious
In botany, fruits are the seed-bearing structures in flowering plants. They derive from specific tissues of the flower and are the means by which these plants disseminate seeds. Many fruit bearers add an aesthetical touch to the garden, with blossom in spring and colourful foliage in the autumn. Since they look and smell good, flowers and fruits are the most loved parts of plants. Therefore, not only your taste-buds will love your decision to add some plants that produce fruit to your yard, but your eyes will also enjoy the beauty that comes from growing these plants.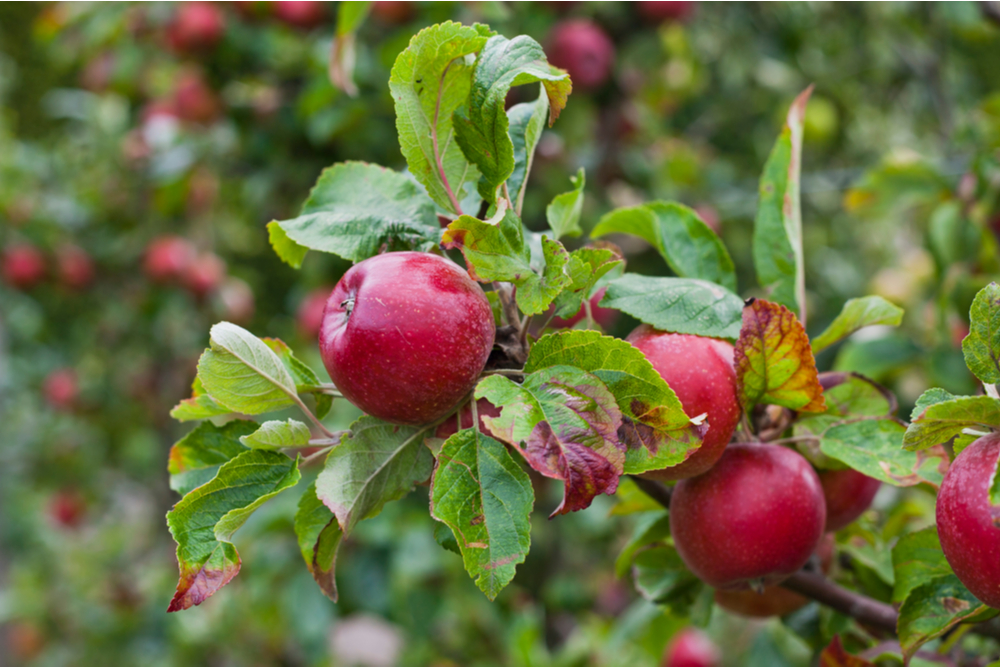 Sunlight and soil
Put some thought into which fruits you would like to grow in your garden and keep in mind the amount of sunlight and the type of soil they need to flourish. Most fruit plants prefer a sunny spot and well-drained, loamy soil. Don't forget that fruit trees perform best when they're not crowded. Also, consider hardiness and bloom time. When planting fruit trees, shrubs and plants in pots, don't forget to keep them well-watered and fed. Soon you will be harvesting your own crops.
Popular fruit-bearing plants
You'll find a variety of garden fruit trees in our range, like the popular Malus, Prunus, Pyrus, and Olea.
Malus or crab-apple trees add interest to the garden all-year-round. They offer beautiful spring blossom, decorative autumn foliage and juicy fruits in a wide variety of colours, shapes and sizes. Did you know the wood of the Malus is solid and often used for making furniture?

Prunus is a huge group of trees and shrubs, including spectacular spring-flowering and tasteful fruit trees like peaches, plums, nectarines and cherries. Their versatility ensures prunus trees can be used in a variety of applications.

Pyrus, or ornamental pears, come in different shapes and sizes: from species with vibrant autumn foliage and white spring blossom to species with edible fruits, perfect for making jam. Plant the tree in a sunny, sheltered spot with well-drained soil.

Olea europaea is the most well-known olive tree. It's the perfect addition to any garden with its Mediterranean feel, creamy-white flowers during summer and beautiful green olives. It also is the hardiest olive variety. Give them a sunny spot in the ground or a beautiful pot.
Buy plants with fruit for the garden
Do you feel like adding some beautiful and tasty plants to your garden? Make the most of your outdoor space with Tendercare's fruit-bearing trees and shrubs. Please note that we can take the plants in this category through a standard garden gate of at least 80-90 centimetres. Want to go bigger? We offer some plants with fruit that you can order online. If you would like to have a look at our plant range in real life, visit our plant nursery in Denham. Any questions regarding the plants we offer online? Feel free to contact us.